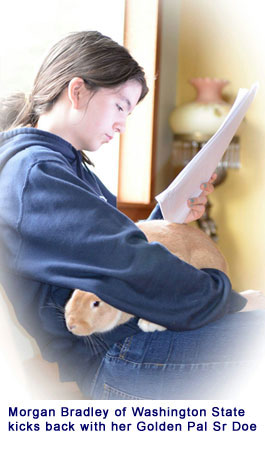 The Palomino Rabbit Co-Breeders Association recognizes that youth are the future of our rabbit hobby and the PRCBA. Here you will find info on outstanding youth achievements as well as access to any information as it becomes available in regards to youth activities and opportunities. We hope you get involved and join in the FUN!
The PRCBA Youth Department has established and maintains contact with the national headquarters of each youth group that does, or can, sponsor Palomino rabbit raising projects. These groups include, but are not restricted to, 4-H, Future Farmers of America, Boy Scouts of America, and Girl Scouts of America. To this end, the PRCBA makes itself available to furnish advice to and/or to receive suggestions from any of these groups for the purpose of establishing reasonable rules of Palomino rabbit raising projects and the exhibition of Palomino rabbits under the sponsorship of these groups.
We are pleased to furnish advice, suggestions, and encouragement to our youth members as well as to local and state specialty clubs for the sponsorship of Palomino rabbit raising projects that are geared toward youth members.
Palomino rabbits lend themselves very well in regards to commercial or exhibition-based projects for young people across the country. We highly recommend to young rabbit enthusiasts everywhere that they consider giving Pals a try!
2018 YOUTH CONTEST FORMS AVAILABLE!
Don't Miss Out! Post Mark/E-mail Deadline is April 1, 2018.