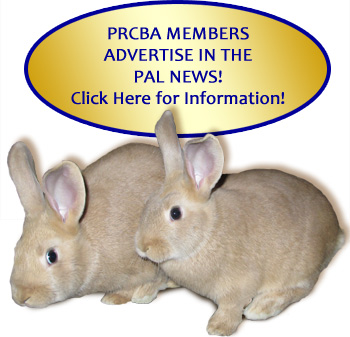 PRCBA members in good standing are entitled to a free breeder listing on the PRCBA Website. Members will be listed by State, Name, City, and Varieties Raised. This is purely an opt-in program. In order to be listed or have your information updated, please fill out the simple On-line Form below.
The Breeder List will be updated frequently. View the Directory Below. (At present, the list is small, so don't be shy...Submit your info TODAY!) Click here to find members by state.
PRCBA members who wish to be listed on this website are encouraged to fill out the form below to be added to the PRCBA Website Breeder List. Listings are updated frequently.
Note: Membership status will be verified before a listing can be added. Items marked with an
asterisk (*) are required.
PRCBA Breeder Listing Request
ALASKA

NAME

RABBITRY

VARIETY(IES)

CITY

Last Frontier Rabbitry

Golden

Fairbanks

5/16/16
ARKANSAS

NAME

RABBITRY

VARIETY(IES)

CITY

Ozarkansas Rabbit Farm

Golden

Siloam Springs
474-427-1683

4/30/15

Ole' Barn Rabbitry

Golden

Cleveland

4/30/15
CALIFORNIA

NAME

RABBITRY

VARIETY(IES)

CITY

Cottontail Farms

Golden

3242 Marshall Rd
Crows Landing, 95313
208-892-6997

10/14/15

Jerry Harmon

Constellation Rabbits

Golden

PO Box 524
Copperopolis, 95228
209-614-2552

8/7/15

Golden

Phelan

4/30/15
COLORADO

NAME

RABBITRY

VARIETY(IES)

CITY

Golden

Fort Collins

7/2/15

Moonglow Rabbitry

Lynx

Deer Trail

5/19/16

Golden, Lynx

Limon, CO 80828
970-946-4130

12/12/18

Copperdale Rabbitry

Lynx

Golden, CO

2/9/17
INDIANA

NAME

RABBITRY

VARIETY(IES)

CITY

Golden

Vincennes

4/30/15

Golden

Nashville
812-988-4695

10/19/18

Golden

Sheridan
317-439-4344

10/19/18

Golden

Milan

4/30/15

Golden

Hagerstown
765-730-7508

10/21/18

Golden

Brownsburg
317-938-4277

4/30/15

Young's Bunny Farm

Lynx
(Also, American Chinchilla, English Angora, Velveteen Lops, Tans)

812-339-0040
Unionville

4/30/15
KANSAS

NAME

RABBITRY

VARIETY(IES)

CITY

Golden

Gardner
PH: 913-856-7311

Hunter Family Rabbits

Golden, Lynx


Scott City

B&B Pals

Golden

Everest
785-548-7721

4/30/15
LOUISIANNA

NAME

RABBITRY

VARIETY(IES)

CITY

Who Dat Rabbitry

Lynx


Pineville
318-452-4429
| | | | |
| --- | --- | --- | --- |
| MARYLAND | | | |
| NAME | RABBITRY | VARIETY(IES) | CITY |
| | | Golden, Lynx | Rising Sun |
MICHIGAN

NAME

RABBITRY

VARIETY(IES)

CITY

Leo 9

Golden


Lansing

Golden
(Also Champagne D'Argents & Himalayans. Sometimes have transport available out of state.)

Morrice
NEW JERSEY

NAME

RABBITRY

VARIETY(IES)

CITY

Golden

Newton, NJ 07860
973-903-2181

12/12/18
NEW YORK

NAME

RABBITRY

VARIETY(IES)

CITY

Golden
(We have Golden Palominos and a few Jersey Wooly rabbits.)

Mohawk

4/30/15

Golden, Lynx

Adams Center

4/30/15
OHIO

NAME

RABBITRY

VARIETY(IES)

CITY

Golden

McClure

8/22/17
OKLAHOMA

NAME

RABBITRY

VARIETY(IES)

CITY

Golden

Okmulgee
918-504-7019

8/26/18

Sharon Pellham

Golden

Sand Springs
918-245-3442

2/21/18

David Scifres

Golden, Lynx

Ringling
580-662-3026

8/28/17

Golden

Warner
918-351-0328 or
918-351-0237

10/26/15
OREGON

NAME

RABBITRY

VARIETY(IES)

CITY

Silver & Gold Rabbitry

Golden
(Also Standard Chinchillas)

Hermiston

4/30/15
PENNSYLVANIA

NAME

RABBITRY

VARIETY(IES)

CITY

The Brown Rabbit

Golden, Lynx

Bath

4/30/15

Strite's Rabbitry

Golden

3535 Guilford Spring Rd
Chambersberg 17202
717-860-0323

4/18/18
SOUTH DAKOTA

NAME

RABBITRY

VARIETY(IES)

CITY

STP Bunny Haven

Golden

PO Box 287
Highmore, SD 57345
605-870-1551

11/26/17
TEXAS

NAME

RABBITRY

VARIETY(IES)

CITY

Drews Rabbitry

Golden, Lynx

Marlin

4/30/15

H3 Rabbitry

Lynx

Jacksboro

11/24/17

Golden

Pearland

8/22/17

Golden, Lynx

Bells

4/30/15

Blue Dream Rabbitry

Golden, Lynx

Ravenna
903-744-4470

1/240/19

Golden

Rosebud 76570

9/29/18

Golden

Euless

8/22/17

Golden

Pasadena

8/21/17

Lynx

222 Parkview Blvd
New Braunfels, TX 78130
210-240-4472

12/11/17

EK Rabbitry

Golden


Big Sandy
Cell: 903-738-1901

4/30/15

Bar-J Rabbitry

Golden, Lynx

Smithville

4/30/15
WASHINGTON

NAME

RABBITRY

VARIETY(IES)

CITY

Golden, Lynx

Latah

4/30/15

Golden

Arlington

8/21/17

Locke Creek Rabbitry

Golden

Cusick

2/10/16
WEST VIRGINIA

NAME

RABBITRY

VARIETY(IES)

CITY

The Bunny Junction

Golden
(Raising show quality Jersey Woolies & Golden Palominos in West Virginia)

Hedgesville

4/30/15
WYOMING

NAME

RABBITRY

VARIETY(IES)

CITY

Golden, Lynx

Cheyenne

11/7/15

Golden, Lynx

Cheyenne

4/30/15