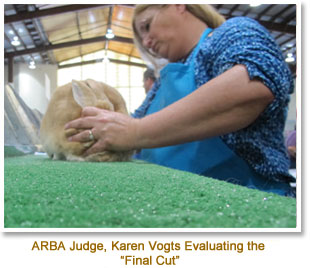 Palomino Rabbit Co-Breeders Association members have two premier show events which draw seasoned Pal breeders and those just beginning their adventure with Palominos from all over the United States - The American Rabbit Breeders National Convention and the National Palomino Rabbit Show.

Both of the above shows are made possible by dedicated breeders from host clubs volunteering their talents and many man-hours to see to it that breeders from coast-to-coast have a venue to display beautiful Pals in both the Golden and Lynx varieties - evidence for many, of years of dedicated breeding programs.


2017 NATIONAL PALOMINO SHOW
APRIL 22 - 23, 2017
HUTCHINSON, KANSAS

Hosted by the
Central Regional Rabbit Club
Kansas State Fairgrounds

HOST HOTEL
Atrium Hotel & Conference Center
1400 N Lorraine Street
Hutchinson, KS 67501
800-362-5018 or 620-669-9311
$80.00/room

Download Flyer

SEE YOU THERE!

2016 ARBA National Convention Results:

Congratulations to the following exhibitors for their wins at the 2016 ARBA National Convention in Del Mar, CA:

OPEN SHOW

BOB - Mike Raab (IN) Golden Int Buck - Group 2
BOS - Sharon & David Pellham (OK) Golden Jr Doe
BOSV Golden - Sharon & David Pellham (OK) Jr Doe
BOSV Lynx - Cliff & Teri King (WY) Jr Doe

YOUTH SHOW

BOB - Makayla Moran (CA) Lynx Sr Buck
BOS - Makayla Moran (CA) Golden Int Doe

SEND US YOUR PHOTOS!

BEST OF BREED PALOMINO ~ GROUP 2 WINNER
Golden Intermediate Buck
Owned by Mike Raab, Milan, IN
---
2016 Pal National Results:

Congratulations to the following exhibitors for their wins at the 2016 Pal Nationals in Canton, OH:

OPEN SHOW

BOB - Mike Raab (IN) Golden Sr Buck
BOS - Mike Raab (IN) Lynx Int Doe
BOSV Golden Mike Raab (IN) Int Doe
BOSV Lynx - Elizabeth Reichert (KY) Lynx Jr Buck
Best Fur - Mike Raab (IN)

YOUTH SHOW

BOB - Zach Goad (OH) Golden Jr Buck
BOS - Zach Goad (OH) Golden Jr Doe

YOUTH CONTESTS

Senior Management - Sandis Walter (CO)
Intermediate Management - Cailin Casey (CA)
Intermediate Achievement - Cailin Casey (CA)